20:00 Ydivide (CH, UK, IE)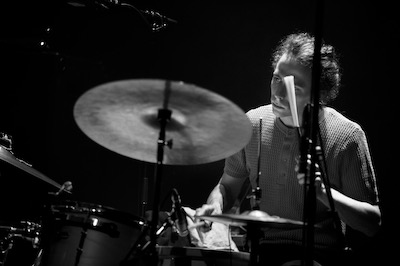 Dee Byrne (as), Chris Guilfoyle (g), Elliot Galvin (p/elec), Lukas Traxel (b), Clemens Kuratle (drums/elec)
The two bandleaders and composers Elliot Galvin and Clemens Kuratle met for the first time at the 12 Points Festival in Dublin. They immediately felt an urge to collaborate, which is now becoming reality at the Jazzwerkstatt Bern. Their witch's brew cooks up Brexit, Joyce and a few other choice ingredients into a lucid display of electro-acoustic fireworks.
clemenskuratle.com
elliotgalvin.com
21:15 DRUMS! DRUMS! DRUMS! (KE, FR, CH)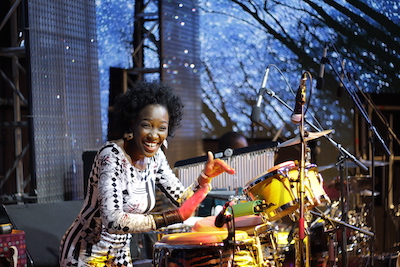 Kasiva Mutua (perc), Camille Émaille (perc), Julian Sartorius (dr)
Three percussionists from three different planets meet to play together for the first time. Kasiva learned traditional drumming from her grandmother in Kenya; Camille grew up on a diet of contemporary music in Nice; and Julius Sartorius in a Bernese drummer who's got the whole world in his pocket. The common denominator is their love of drums and their conviction in the universal power of music.
Ted Talk Kasiva Mutua
camilleemaille.com
juliansartorius.ch

22:30 Künzi Kuster (CH)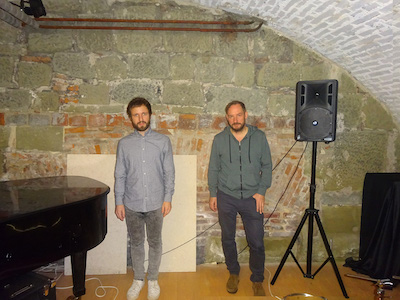 Emanuel Künzi (dr), Oli Kuster (synths)
An Out-of-Body Journey Through the YouTube Galaxy
Instruction manuals, religious conversions and cosmetic lessons: YouTube offers this and more. Drummer Emanuel Künzi and keyboardist Oli Kuster hook up to this river of video, observing its eddies and playing along. Their electronic jazz improvisations open up a fresh perspective on the quotidian lunacy on our screens.
Kuster synth-ups the latent sadness of a French course that no one seems to have asked for; Künzi hits the nail on the head to a video about "Distinctiveness," hammering away at distinctions that would drive you to drink.
These two savvy musicians are ready to guide the uninitiated through the treacherous currents of the YouTube galaxy. They've spent many a day surfing the confluence of jazz and electronica. Künzi is thoroughly networked and has worked with such collaborators as Fischermanns Orchestra, Anna & Stoffner and Tim Berne/Gerry Hemingway Ensemble. Kuster plays with his own combo, with AEIOU, MenschMaschine, Die Astronauten, and has been known to keyboard for Züri West.
Kuster and Künzi's amalgam of moving images and music depict users hustling for attention, comments and likes. Who are these people? Who looks at all of this stuff? The trip that Kuster/Künzi initiate becomes a wild ride through the thickets of one's own thoughts. Any stragglers will be rounded up by Kuster/Künzi's sound. And will find out, according to the next video link, that we are all already out-of-body travellers.