Public rehearsal
15:00 Thandi Ntuli Art Ensemble (ZA, CH, NL, SK, KE, IT)
20:00 Multimulti (CH, DE, US)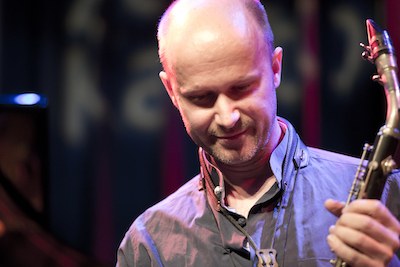 Scott Robinson (wind instruments), Steffen Schorn (woodwinds), Reto Suhner (woodwinds)
The multi-instrumentalists Scott Robinson, Steffen Schorn and Reto Suhner all have a penchant for momentum in music. They bring together resonances which celebrate balanced and rich paths through life.
21:15 Banou Azania (MW, UK, ZA, ZM, KE)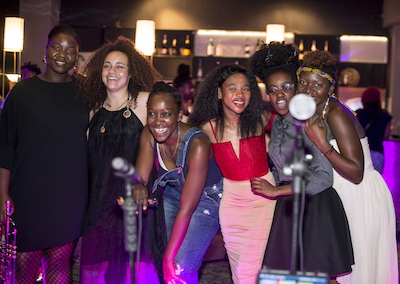 Marlyn Chimombo (voc), Sheila Maurice-Grey (tp), Siya Makuzeni (tb), Micah Miyanda (g), Isobella Burnham (b), Kasiva Mutua (perc)
Last September in Malawi these six exceptional female musicians met for the first time — each of them hand-picked by the South African singer and trombonist Siya Makuzeni in collaboration with the British Council. This pan-African-British musical summit provided a whole week to jam and fiddle about with the assorted musical treasures brought along by each participant. The results were breathtaking. Participants and listeners alike were convinced that Banou Azania must go on.
22:30 Thandi Ntuli Art Ensemble (ZA, CH, NL, SK, KE, IT)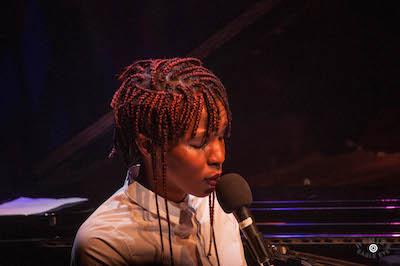 Thandi Ntuli (p/voc), Nadia Strijbos (vl), Matej Sonlajtner (vl), Nao Rohr (vla), Mara Miribung (vlc), Raphael Heggendorn (vlc), Nils Berg (woodwinds), Benedikt Reising (woodwinds), Lukas Thoeni (tp), Andreas Tschopp (tb), Vojko Huter (g), Shane Cooper (b), Kasiva Mutua (perc), Rico Baumann (dr)
She is a pianist and a singer, a composer and a producer, and she is a collector. Thandi Ntuli's music is eclectic in the most beautiful sense of the word. Jazz and soul, references to Mali and Ethiopia, a sound that shimmers like golden feathers, music as colorful as a rainbow. And she means what she says when she sings of love, community, or the state of South Africa. The awards raining down on her have been richly deserved. The Thandi Ntuli Art Ensemble is honey for the ears and balm for the weary soul.