Public rehearsal
15:00 Scott Robinson's Heliosonic Sound Project (US, CH)
20:00 Mats-Up feat. Mbuso Khoza (CH, ZA)
Mbuso Khoza (voc), Matthias Spillmann (tp/perc), Reto Suhner (woodwinds), Marc Méan (p), Raffaele Bossard (b), Dominic Egli (dr)
For their newest program, the band MATS-UP invited the South African singer Mbuso Khoza to join them. Spillmann gathered the singer's melodic ideas and reworked them into a composition tailor-made for his band. Mbuso, who maintains a strong relationship to the vocal tradition of his homeland Kwa-Zulu-Natal, possesses an astounding vocal versatility. His vocal creativity and talent for musical storytelling are limitless.
21:15 Stucki, Moret, Pfammatter (CH)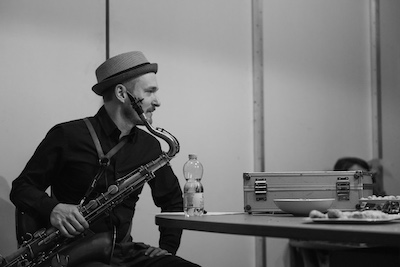 Marc Stucki (saxes), Patrice Moret (b), Norbert Pfammatter (dr)
Marc Stucki, Patrice Moret and Norbert Pfammatter join forces at the Jazzwerkstatt to fulfill a long-held wish: to play a series of miniature works to which you can sing along, hum along, or simple sway. Beautiful music comes in small packages.
22:30 Scott Robinson's Heliosonic Sound Project (US, CH)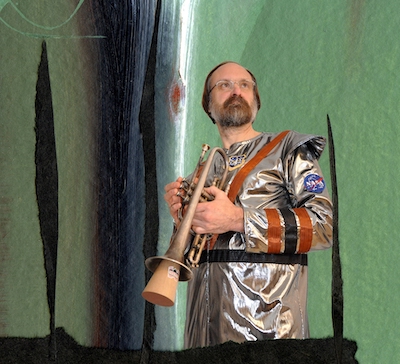 Scott Robinson (wind instruments), Sonja Ott (tp), Florian Weiss (tb), Florian Egli (as), Matthias Tschopp (bs), Théo Duboule (g), Florian Favre (p), André Pousaz (b), Christoph Steiner (dr)
The composer and multi-instrumentalist Scott Robinson has been playing around with the music of Sun Ra for a few decades. The zenith of his fascination came with the album "Heliosonic Toneways," released on the day of the solar eclipse in 2017 and featuring some of Sun Ra's former band members. The Jazzwerkstatt has invited Robinson to bring this music to Bern and have it performed by a hand-chosen orchestra of intrepid Swiss musicians. A special opportunity to hear some of the solar master's rarely heard treasures.
home.earthlink.net/~smoulden/scott/scott.html
23:45 Card On Spokes (ZA)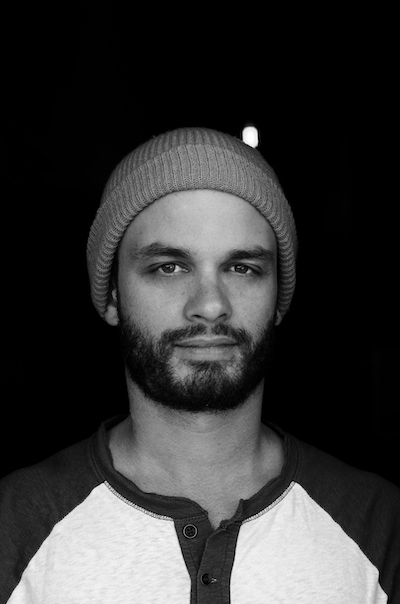 Shane Cooper (b/keys/elec)
This year's guest curator of the Jazzwerkstatt, the South African musician Shane Cooper, is a jack-of-all-trades and a king of the hill. His bass playing (both contra and E) is celestial, he's recently added performance art to his bag of tricks (cf. "center of the left good idea" from artist William Kentridge), he produces film music and radio hits like there's no tomorrow, he composes theater music and — last but not least — he performs with legends like Louis Moholo and Zim Ngqawana. His solo project "Card On Spokes" is impossible to dance to; instead it is (to quote one of his songs) "the dance of things to come."
01:00 Phil Pohlodek