20:00 Nous, après le déluge (CH)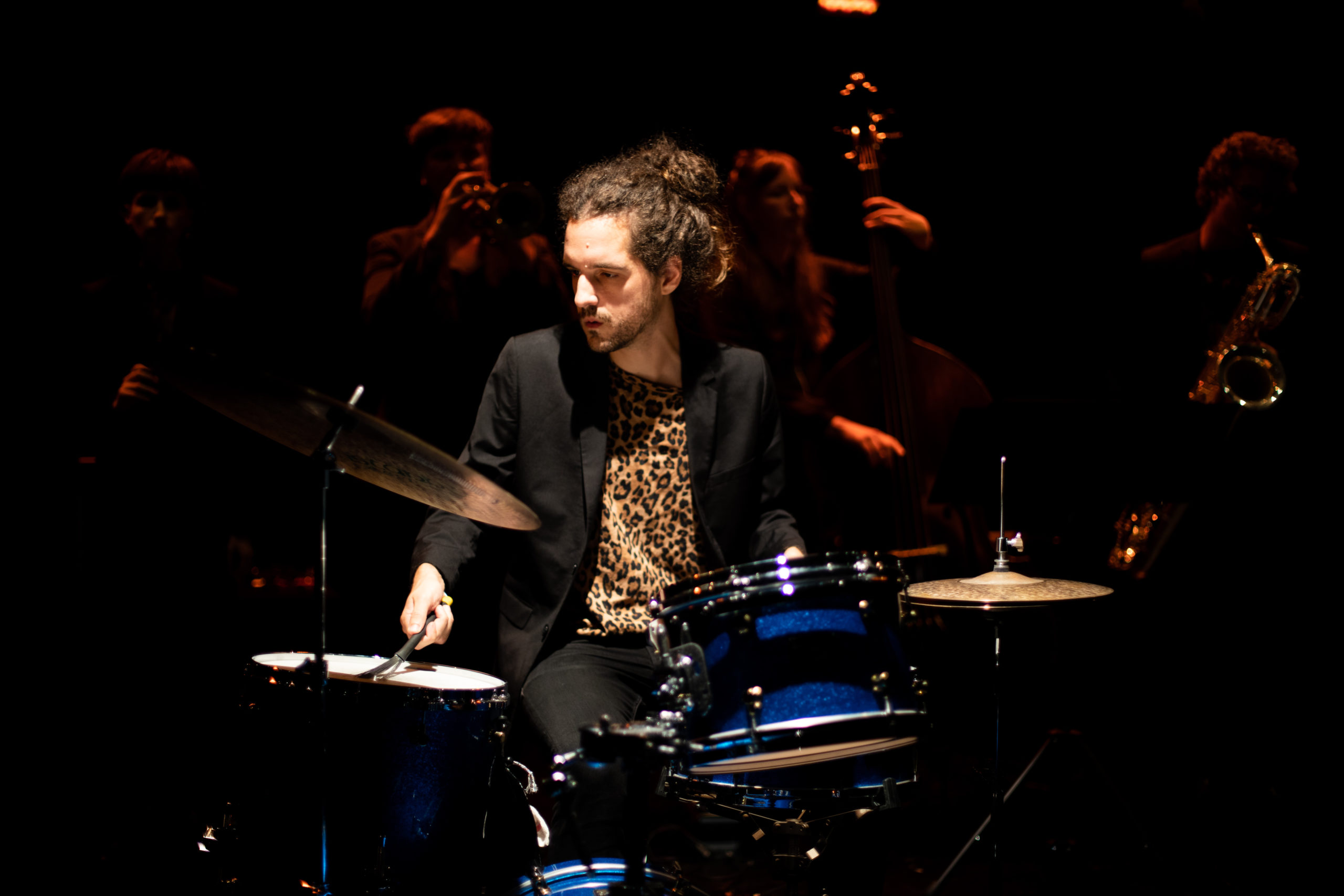 Selina Brenner (voc), Johanna Pärli (b), Luka Mandic (g), Jaronas Höhener (tp), Kevin Sommer (bcl), Gabriel Wenger (ts), Loris Knüsel (bs), Nicolas Wolf (dr/comp)
The industrious Nicolas Wolf and Gerry Hemingway joined us last year for the opening of the Jazzwerkstatt in Kino Rex to present the audiovisual performance "Rumble in the Jungle." For this performance (among others), the Canton of Bern promptly gave Wolf the 2019 "Coup de Coeur" music award in recognition of his interdisciplinary and multifaceted work. For the current edition of the Jazzwerkstatt Wolf will be presenting his newest escapade. "Nous, après le deluge" [us after the flood] is a large ensemble that embarks where nothing yet exists and ends where nothing else shall be. With a composition situated in the gray zone between aleatory music and improvisation, and a performance style that spans the gamut from Japanese tea ceremony to insurrection, the band roams through a private universe that touches the audience in surprising ways.
21:15 Herz Unter Null (AT, CH, USA)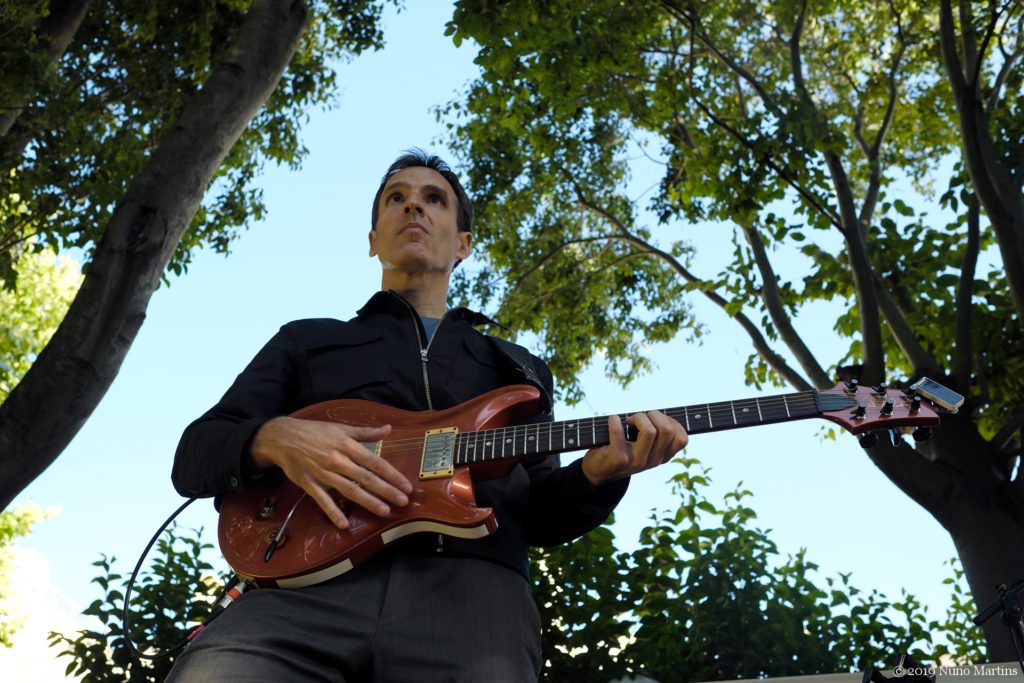 Peter Rom (g/comp), Pamelia Stickney (theremin), Manu Mayr (b), David Meier (dr) 
Forget Keith Richards, Mark Knopfler and Jimi Hendrix. Forget Les Paul and everything you've read in "Gitarre & Bass." Our master of the strings is named Peter Rom and, if you ask us, his picture belongs on the 10 franc note. He's been here before, with Synesthetic 4 and Rom Schaerer Eberle, and we'd be sorry to ever see him go away. With "Herz Unter Null" he's found the band of his dreams and will be releasing an album in the fall. Before then he'll be bringing his band to Bern to present works both large and small, and in every possible key.
22:30 Michael Zerang & The Blue Lights (USA)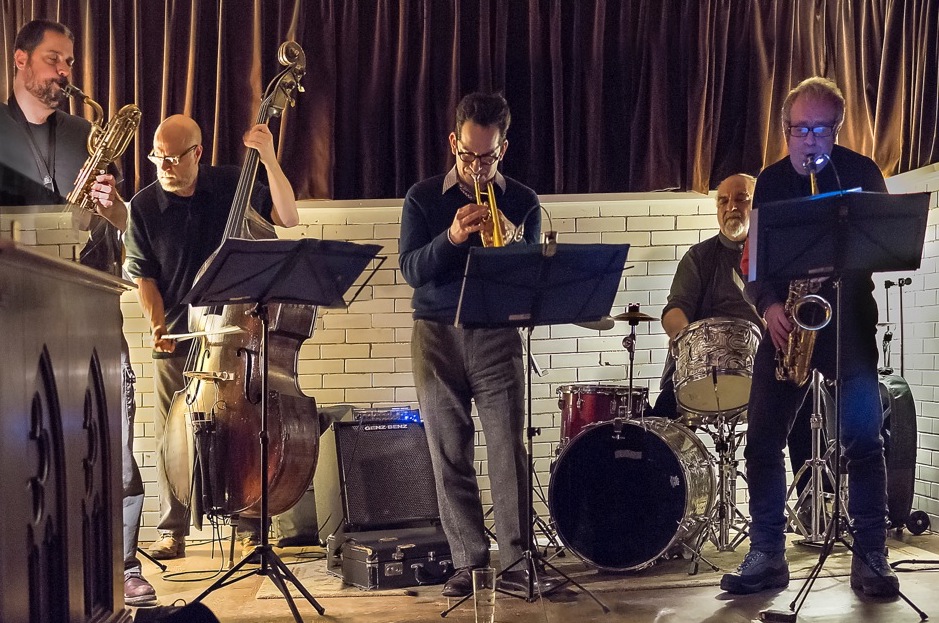 Mars Williams (reeds), Dave Rempis (reeds), Josh Berman (cornet), Kent Kessler (b), Michael Zerang (dr/comp)
Michael Zerang has been a linchpin of the Chicago improv scene for more than four decades. Fifteen years playing with Peter Brötzmann's Chicago Tentet and a role in Joe McPhee's Survival Unit III are just two of his many historic projects worthy of mention. Working as both composer and drummer, Zerang has assembled a group of other Hall of Fame candidates from the Chicago scene for The Blue Lights. The mix of counterpoint and eruptive free capers in their debut album "Songs from the Big Book of Love" reminds us of Bach in a pressure cooker.