20:00 Jalalu-Kalvert Nelson's Unit meets the Madblaster String Quartet (USA, CH, AU, FR)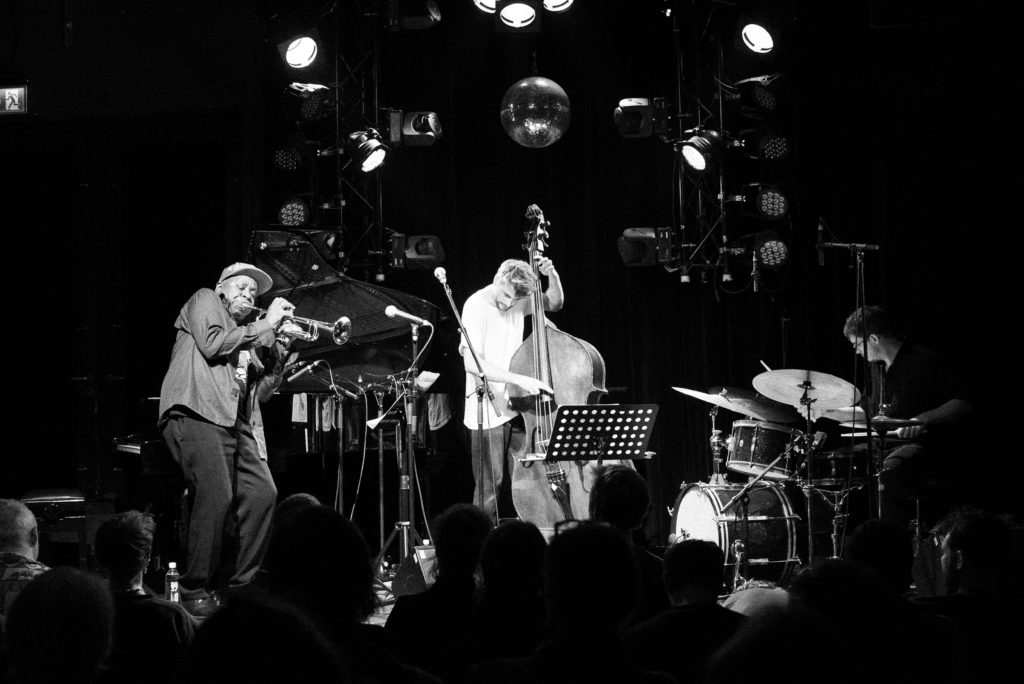 Jalalu-Kalvert Nelson (tp/p/voc), Xaver Rüegg (b), David Meier (dr), William Overcash (vl), Michi Stern (vl), Robin Kirklar (vla), Nathan Watts (vlc), Special guest: Kolja Kirschner (p)
Trumpeter Jalalu-Kalvert Nelson was born in Oklahoma and studied composition with John Eaton and Iannis Xenakis. He lived in New York from 1974 to 1994, buddying up with musicians like William Parker and Hamid Drake. He collaborated with the Lincoln Center Institute and the Guggenheim Museum, among others, and moved to Biel in the mid-nineties. The paths that Jalalu-Kalvert Nelson weaves through classical music, jazz and improvisation are singular. The year 2019 was marked by him introducing his new trio at the Gamut Festival andthe Madblaster String Quartet being founded in Frankfurt, expressly in order to perform his music. At this year's Jazzwerkstatt both groups join forces for the first time ever. We are as proud as a peacock to able to present this premiere.
21:15 Puissance Quatre (CH, USA)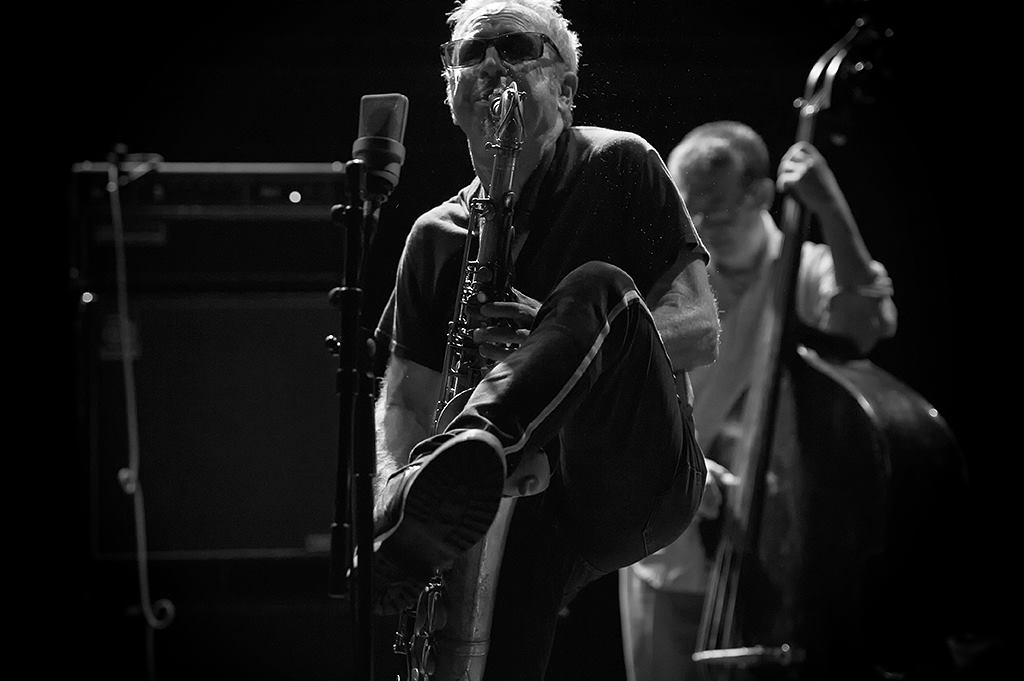 Mars Williams (sax), Marc Stucki (sax/effects), Kesivan Naidoo (dr), Valeria Zangger (dr/electr)
To play Puissance Quatre (known as Conenct Four in English), the musicians take turns dropping slices of improvisation into a hollow musical grid. The grid consists of seven vertical and six horizontal melodies. Each musician begins with 21 melody fragments. The winner is the player who succeeds in creating a vertical, horizontal or diagonal line of four or more melodies in the same key. The concert ends in a tie if all of the notes have been played without creating a single line of four.
22:30 Die Husband (AT)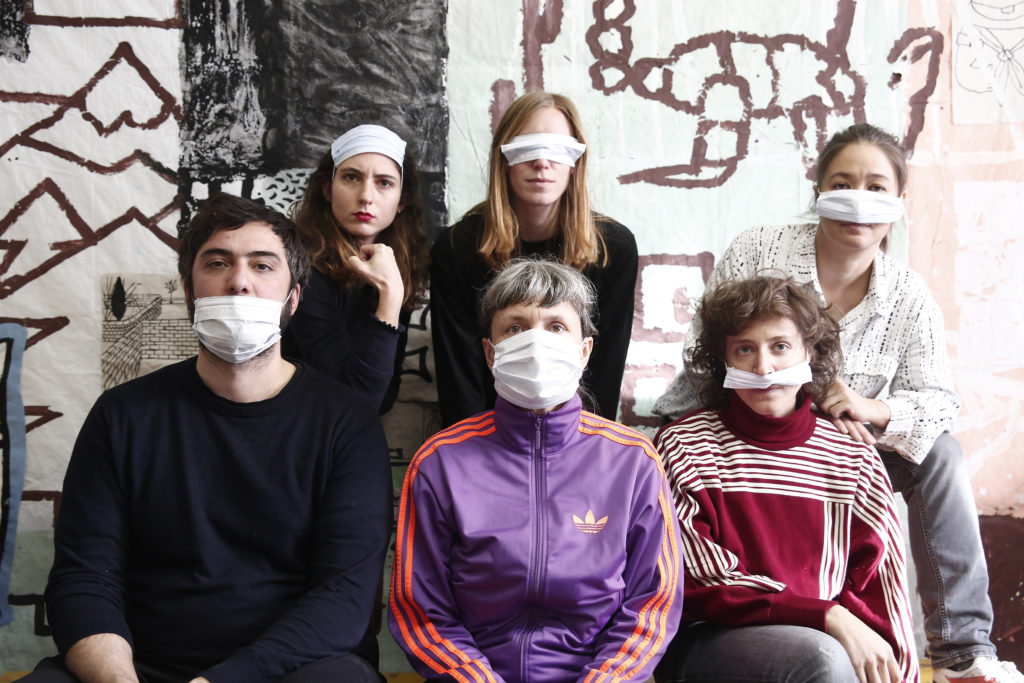 Aurora Hackl Timón (dr), Billy Roisz (voc/b/electr), Elise Mory (synth), Karolina Preuschl (voc/electr), Leo Riegler (voc), Marie Vermont (electr)
Whoever has taken the time to experience contemporary Viennese music making outside of the mainstream; to witness noise, electronics and inquiry; to experience absurdity, comedy and eccentricity — they would already know all of the musicians represented here, both as individuals and in the different constellations they form. All-inclusive-Dada-autodidact LEO RIEGLER (koenigleopold, JazzWerkstatt Wien, Studio Dan) writes heart-rending lyrics; ELISE MORY (Gustav, Möström) pampers them in a harmonic synthesizer cocoon; and then the rest of DIE HUSBAND comes and rips it apart, stuffs everything into the meatgrinder, squashes the quivering chunks with a steamroller, adds a pinch of ammonium salts… et voilà!: love songs with an edge.
23:45 Tommy Lobo (CH, D)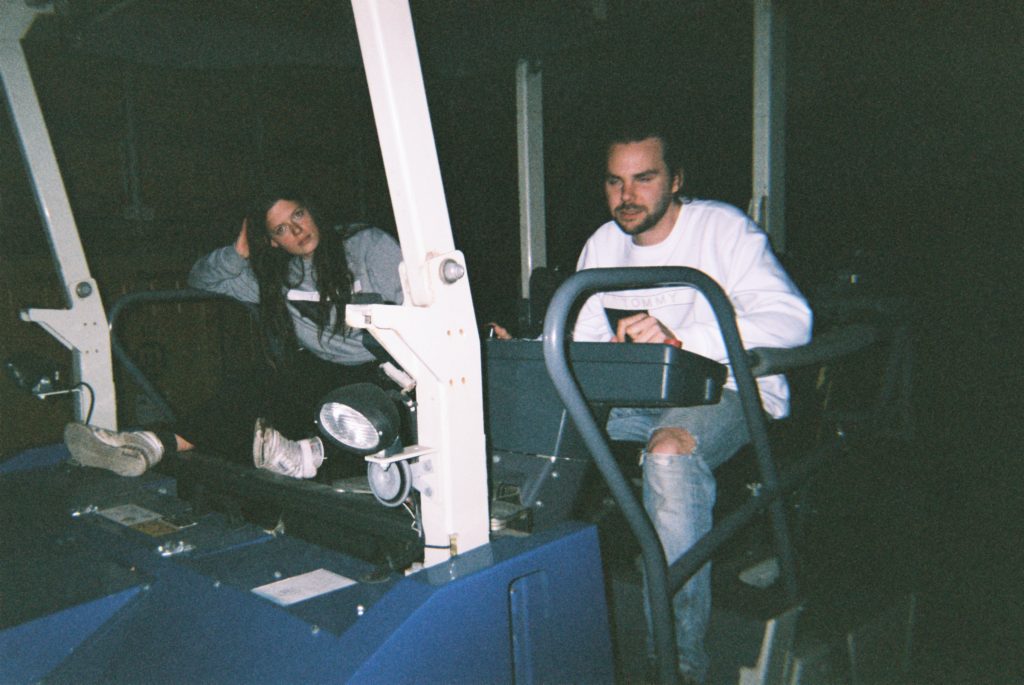 Tomas Holla (electr), Zooey Agro (voc/electr)
Is it rap? Is it hardcore, played upon the video game consoles of yesteryear? In any case, a good year and a half after their debut on über-label BlauBlau Records, Tommy Lobo still sounds as fresh and crisp as a swim in the Aare on a cloudy afternoon in March. Impudent avantgarde, electronically amplified, as prickly as their nomen est omen-anthem "Funky Piñata," Tommy Lobo is unacceptable in the most conceivably enchanting fashion. Tommy Lobo is Tomas Hohler and Zooey Agro.
01:00 Phil Pohlodek
DJ-Set